| Visions Home | | Our Guarantee | | Contact Us | | eMail Artist Update |
Tuan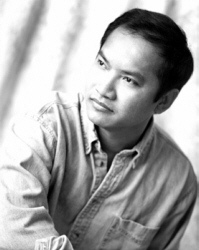 Art is vital for me. It is almost a religion. It means to believe in people, in life, in love. It is a response to what is beautiful and ugly. As an artist I do what I do for no other purpose than to express my feelings.
 -- Tuan
By its very nature, "sculpture" often suggests "mass"... if only in the weight of its material - be it bronze, marble or stone. To experience the bronze figurative sculpture of Vietnamese artist, Tuan, however, is to experience the defiance of the nature of bronze sculpture. Tuan glorifies the beauty of the human form with masterful precision. However, the true uniqueness of his style is not in the physical expression of human beauty, but in his ability to infuse physical "mass" with an almost divine sense of weightlessness.
Tuan's artwork radiates peacefulness and serenity through graceful lines and rhythmic compositions so that while glorifying the human body, he at the same time glorifies the human spirit, exalting the exhilarating experience of life. Tuan infuses his sculpture with a celestial beauty that carries his human forms beyond earthly existence and into the realm of the heavenly in a quiet celebration of life. Though cast in bronze, his forms appear to be magically suspended like angels on the wing.
| Visions Home | | Our Guarantee | | Contact Us | | eMail Artist Update |