| Visions Home | | Our Guarantee | | Contact Us | | eMail Artist Update |
Pino Daeni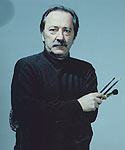 Pino Daeni, born Giuseppe Dangelico, In Italy, on November 8, 1939, is now the subject of a 165 page, full color art book about his life and paintings. Trained at the Art institute of Bari, and later at Milan's Academy of Brera, Pino perfected his skills painting nudes and figure studies heavily influenced by the Pre-Raphaelites and Macchiaioli.
After establishing himself as a successful artist in his native land, Pino decided to immigrate to the United States, where he felt he would have more artistic freedom and opportunity. He was soon discovered be the distinguished Borghi Gallery, which gave several prestigious exhibitions for him in New York & Boston.
His early paintings featured soft romantic characters mostly women dressed in flowing skirts and dresses; and these caught the attention of both DELL & Zebra Book Publishers. During most of the next two decades, his Romance Period, Pino's oeuvre was marked by hundreds of book covers painted for artists such as Danielle Steele, Sylvie Summerfield, & Amanda Ashley. Using a then unknown Italian model named Fabio, Pino struck a chord that is still resounding today. Pino's technique, his warm & exciting colors and the subtle, but simple approach to his subject, are his trademark, his talent, and the reasons why his paintings and limited editions are in growing demand throughout the United States, and appreciated by collectors throughout the world. Always underlining his success as a commercial artist, was his desire to express his own thoughts & emotions, Years later, we see these images brought to life in Pino's original oils on canvas, giclee and serigraphs.
Pino's canvases elicit feelings of warmth, nostalgia, love & family. His paintings are often set on vibrantly sunny beaches, typically in the Mediterranean where he grew up. His alter ego, a young boy surrounded by beautiful women, (his sisters, aunts & cousins), are found in various states of emotion ranging from adoration to isolation. Many of Pino's characters are also found frequently inhabiting sensuous boudoirs or dressing rooms, in anticipation of their husband or lovers.
| Visions Home | | Our Guarantee | | Contact Us | | eMail Artist Update |