| Visions Home | | Our Guarantee | | Contact Us | | eMail Artist Update |
Csaba Markus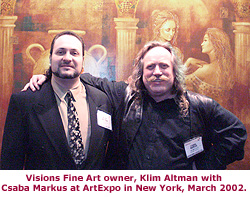 He began his artistic career as a sculptor under the guidance of the highly acclaimed Hungarian academic, Ferenc Mohacsi Regos. Recognized as a talented artist by his teachers and public alike, Csaba and his work made their first public appearance on international public television when he was 14 years of age.
His captivation with the Renaissance, Neo-Classic and Romantic periods predominated his work. Though classically trained, the Avant Garde and Abstraction began to make their way into Csaba's work. He reflected on the rebirth of humanity after the middle ages, the transition from a spiritually and morally controlled world to one that encouraged individual thought. These ideas became a strong thread in the fabric of his work.
He became increasingly frustrated with teachers and the confines of the communist system. He desperately sought an environment that would nurture growth and artistic freedom. In 1978, Csaba's "internal revolution" took him to the "New World". Passionate and determined, Csaba settled in Mission Viejo, California, and continued his quest to become a self-supporting artist. He experimented with many techniques and various mediums: hand made papers, metal sculpture, ceramics, etchings, silk screen, and even animation. It is this diversity and flexibility that has kept his work fresh through the years.
To date, Markus has participated in over 200 U.S. exhibitions and is now an established artist with a solid base of collectors. Noted for his commissioned portrait works, his artwork is a part of many prominent, private collections.
Markus's most recent works capture the style, imagery and ideas of what he terms "Contemporary Classicism". It is not his intention to copy the Old Masters, but to build on them, thereby creating his own style. Just as the artists of the 14th and 15th centuries evolved Classicism into the Renaissance, so too is Csaba Markus's intention in redefining traditional and basic classical details with loose and spontaneous means of expression. His appreciation of the past and for his own culture have made him a firm believer in the value of tradition. He has searched for the correct fusion of style and content to best express the timeless beauty of classical themes in a way no contemporary artist has done before. Through his unconventional approach, he strives to share this appreciation for the lost classical culture with today's contemporary public.
| Visions Home | | Our Guarantee | | Contact Us | | eMail Artist Update |