| Visions Home | | Our Guarantee | | Contact Us | | eMail Artist Update |
Robert Kuster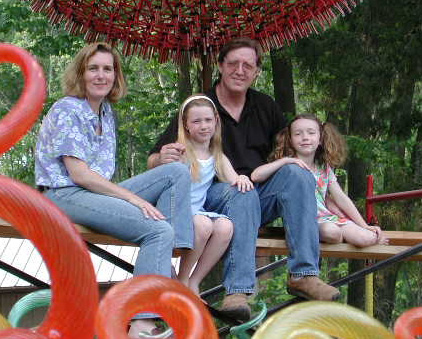 Robert Kuster began blowing glass in 1990 as a "second career". In only 14 years, Robert has achieved what most artisans may never achieve in a lifetime. His work is found in the most prestigious galleries in North America, his chandeliers grace magnificent homes, hotels and upscale restaurants across the country, he has been featured in multiple public installations and his work will even be featured in an upcoming PBS special on his "Seven Sisters" corporate project for ACUITY in Wisconsin.
Previous to his career in glass, Robert worked as a wood worker, building furniture in NYC. Robert's creativity spilled over into designing and building custom sanding equipment to assist woodworkers and eventually founded Kuster Manufacturing. The company was very successful but after 12 years of operating Kuster Manufacturing he decided it was time to get back to his creative roots. He chose glass blowing, and within a very short time he had built his own glass studio.
Robert first learned basic glass blowing techniques at a local Community College, but was soon studying the great Italian glass masters and attending glass blowing workshops at Penland School, Pittsburgh Glass Center, Corning Glass Museum and New York Experimental Glass Workshop. He began making annual visits to Murano, Italy that have been a great inspiration as well as source for new techniques. As he quickly acquired the necessary skills and knowledge, Kuster began to develop his artistic ideas in his new studio and was soon in full production.
Robert's work is inspired by the organic forms in nature. He has always incorporated the shape and color of vegetation from flowers, bamboo, seaweed and fruit. Nature as afforded Kuster unlimited shapes, colors, and texture and his work has ranged from large hand blown glass flowers to vivid multi-piece glass sculpture.
Currently Robert is working on and completing the glass installation "Seven Sisters" that includes 7 large glass sculptures that will find a home at ACUITY Corporation in Sheboygan Wisconsin. The installation includes 3 sculptures in vivid shades of red that include 2,300 pieces of glass each per sculpture. The large glass chandeliers measure 15 feet in diameter. The other 4 sculptures are in shades of blue and measure 10 feet across. The installation will be complete by September of 2004.
In addition, Robert is working on several chandeliers for a magnificent home in Rotterdam, Netherlands. This Glass Artists Gallery project features a 7' wide by 12' tall chandelier in the foyer of the historic home with over 800 hand blown glass pieces in lava red and topaz gold. There are also two 175 piece 4' diameter chandeliers over a large dining room table. The owner of this home is an art collector that had traveled the world to find the right artist for this project. Glass Artists Gallery worked with the client to select the appropriate artist and work for the client's specifications.
| Visions Home | | Our Guarantee | | Contact Us | | eMail Artist Update |