| Visions Home | | Our Guarantee | | Contact Us | | eMail Artist Update |
Alexei Butirskiy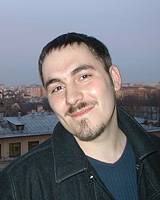 Born in Moscow in 1974, Butirskiy studied at the Moscow Art College and graduated with an Excellence Diploma. He then attended the Russian Academy of Arts, where his style evolved under the guidance of Professor LS Hasyanova. By 1996, he was participating in numerous exhibitions, including the Russian Union of Artists, the Moscow Union of Artists, and the Art-Salon at the Manezh in Moscow. From 1998 to 2000, he had six one-man shows in the Central House of Artists, and in 2001 his work was featured as part of the Russian Post-Impressionism auctions in London.
When he visited an exhibition in Pushkin museum at the age of 5 it was then that he decided to become an artist.
Butirskiy's favorite technique is realism and impressionism. His favorite artistic medium that he uses to express himself is oil and canvas.
The most influential people that have helped him shape his art work are Vermeer, Rembrant, Jourj Latur, Andru Waite, Serov (XIX), Levitan (XIX).
Butirskiy favorite subject for his art psychological portrait, urbane city landscape and interior with present sensitive human.
Butirskiy considers the most lucky thing to have happened to him in his career to be traveling around the world's museums.
| Visions Home | | Our Guarantee | | Contact Us | | eMail Artist Update |