| Visions Home | | Our Guarantee | | Contact Us | | eMail Artist Update |
Anne Andersson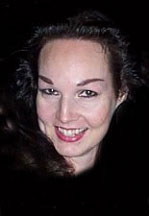 Anne Andersson was born in Gothenburg, Sweden, with a great desire to explore Nature and a Passion for Art. She received a degree in science in 1981, while working as a freelance illustrator and painter.
Her life took a dramatic turn when she moved to Florida in 1986 to unite with family she had been searching for all her life... Anne graduated with honors at the Art Institute of Fort Lauderdale in 1989. It was then that she met Don Moore, an accomplished artist and set designer in his own right. Don served as her mentor until his premature death in 1994.
In those years Anne collaborated with Don in producing a wide variety of artwork and spectacular yacht themes that took first place in the Sunshine Classic Boat parade, a major Fort Lauderdale Christmas event...for six consecutive years. Anne's talents in painting, weaving and illustration combined with her intuitive knowledge and attention to the smallest detail, truly bring her sculptures to life. Each piece exudes its own individual personality in a way only Anne can create.
While her natural talent enables her to compose life-size pieces of Art representative of any species, Anne's deepest passion is for Her Wild Cats. Her tributes to those animals embody her dedication to conservationalist ideals and preservation of all species in nature. Anne started out by exhibiting her sculptures at the Art Expo in 1996, and found great success in New York, Miami and Los Angeles. Anne's highly prized and sought after works are now finding their way into an ever widening circle of galleries, private collections and prestigious public displays. Her most recent display being a family of White Bengal Tigers, commissioned by Siegfried and Roy, at the Mirage Hotel in Las Vegas, Nevada.
Her African Lions were featured at the grand opening of the Fine Arts gallery at MGM Grand Hotel. Her Siberian Tigers and African Lions are on display at Busch Gardens in Tampa, Florida. It is said that a picture is worth more than a thousand words, but to see these works of Art with your own eyes will leave you in absolute awe of their beauty and majesty.
| Visions Home | | Our Guarantee | | Contact Us | | eMail Artist Update |